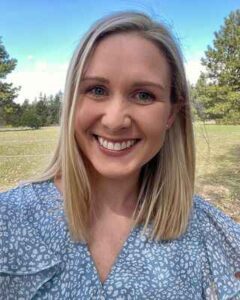 363 E Jewett Blvd. #5, White Salmon, WA 98672
Contact: 509-219-0221
Website- www.AlpineChristianCounseling.com
Email: admin@alpinechristiancounseling.com
Specialties
Trauma and PTSD, Anxiety, Women's Issues, Adolescent Issues, Chronic Pain, Infertility, Infidelity, Obsessive-Compulsive (OCD), Pregnancy, Prenatal, Postpartum issues, Relationship Issues, Self Esteem, Sex Therapy, Spirituality, Sports Performance, Depression and Anxiety.
Graduated from Northwest University with a Master of Arts in Clinical Mental Health Counseling. Current Ph.D Student in Counselor Supervision and Education at the University of the Cumberlands.
Accepting new clients in person and via tele-health.
Offering EMDR Therapy, CBT, and delivery of the Safe and Sound Protocol.
Are you someone who is struggling with anxiety, panic, feeling overwhelmed, or having difficulty coping? Do you feel stuck? Triggered by past trauma that is holding you back from the life that you want? My approach to therapy is a collaborative process. I provide a safe, compassionate, and non-judgmental place to freely explore thoughts, experiences, and feelings. We will work through past traumas together, utilizing your strengths to grow hope for the future. This is not traditional talk therapy. I will empower you with the coping skills you need to overcome the obstacles you are facing. EMDR therapy can help clients achieve relief 60-80% faster compared to traditional therapy. Research and my experience show EMDR can relieve the symptoms of trauma permanently.
I specialize in women with birth trauma, men and women with PTSD, and adolescent mental health. I'm trained in and utilize EMDR therapy, Somatic Experience, and CBT (Cognitive Behavior Therapy). I work with adults, and adolescents to overcome past trauma and current issues to create more fulfilling lives and relationships.